Mr. B Sundeep
Executive Director – Vishwasamanyu Projects Pvt. Ltd.
Mr. Sundeep started Vishwasamanyu Projects Pvt. Ltd. with his rich experience of over 15 years in the Real Estate industry.
He has spent the last decade excelling in the development of land and commercial spaces, and construction of educational institutions.
Since its inception, Vishwasamanyu has already completed few projects and few more are in progress under the able leadership of Mr. Sundeep.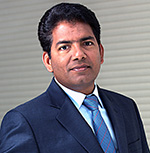 Mr. Sasidhar Chinta
Director – Vishwasamanyu Projects Pvt. Ltd.
In addition to being the Director at Vishwasamanyu Projects Pvt. Ltd., Mr. C. Sasidhar is also the Managing Director at Vishwasamudra Projects.
As the chief architect of the new-generation Krishnapatnam Port, which is fast emerging as the biggest in the country, he has his undivided attention on making the Port region an industrial hub. His strong organisational abilities have helped achieve the fastest project execution and commissioning of Krishnapatnam Port in a record time of 18 months.
Mr. Sasidhar spearheaded the development of the Group's overseas business, especially in the areas of object-oriented IT development, Internet/Intranet technologies, QA/Test series with companies based in Europe.
He is also the founder of CVR Foundation, the CSR arm of the CVR Group of companies. Within a short span of time, he has developed the Foundation into an icon of indomitable commitment to the betterment of the local communities and hence, the society at large. Being the guiding force of the Foundation, he is always at the forefront, driving the team towards CVR's mission.
Mr. Sasidhar received Maritime Gateway's Maritime Businessman of the Year Award – 2015. He is also a member of the Confederation of Indian Industry's (CII) National Committee on Ports & Shipping for the year 2015-16.