Navayuga Corporate
Area: 50,000 sq. ft.
Completed for fit out in 8 months, Navayuga Corporate was the pioneer project of Navayuga Real Ventures Pvt. Ltd.
This 5-floor structure with its one of a kind façade presently serves as Navayuga Group's corporate office. Its thoughtful, futuristic design, timely completion and elegant finish is everything Vishwasamanyu stands for.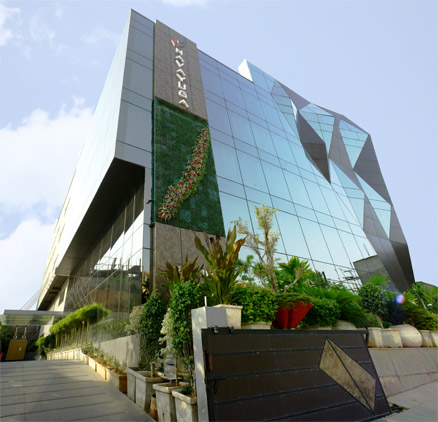 Vishwasamanyu Vizva
Area: 2,20,000 sq. ft.
Located at Gachibowli, the business and leisure hub of Hyderabad, Vishwasamanyu Vizva is a well thought out structure which has set a new benchmark in retail and commercial spaces.
Constructed with the finest materials, all 8 floors of this beautiful building boast intelligent design. Its completion in a time span of approximately 10 months, which is 3 months ahead of schedule, is a testimony of exceptional planning and commitment to work.